Featured Articles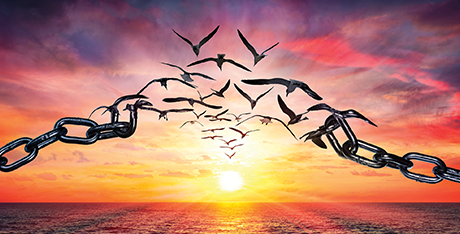 Breaking the Locks on Your Mental Baggage
by Anna Mathias
Liv Fun: Vol 9 – Issue 2
When Donald Trump was elected the 45th president of the United States in November 2016, I was attending UCLA, rightly known as a highly liberal university. Reaction to the election results was more polarizing than I could have ever imagined.
The night of the election, a large portion of the UCLA student body marched in protest of the results, forcing a shutdown of one of the busiest streets in west Los Angeles. The following morning, in my statistics class, our relatively young professor addressed the elephant in the room. "I'm sure it must have been an emotional night for some of you," he said, and announced our midterm examination was pushed back to the following week. As one of many who'd forgone studying the night before to watch the breathless news coverage of the election results and the night-long protests, I was relieved.
Though I happened to agree with the opinions of my marching peers, I noticed a disturbing trend that night. Differing political opinions were immediately shunned by the larger community; the idea of listening to different perspectives quickly dissipated. If you weren't aligned with the protestors' point of view, your opinions didn't matter nor hold any merit.
Many class discussions in the weeks following the election turned to heated debates, even shouting matches, replacing the normally meager group participation.
It felt to me that any mental flexibility, at least within the political sphere, had been abandoned, resulting in a highly charged and negative atmosphere — not only across the UCLA campus, but across the United States.
Liv Fun
by Leisure Care
Summer 2020
View Table of Contents
Breaking the Locks on Your Mental Baggage
by Anna Mathias

What exactly is required to have an open mind? And is it truly easier said than done? Self-reflection and self-awareness can bring light to roadblocks that impede our ability to create true happiness for ourselves and more acceptance of those around us.
Playing the Fountain of Youth
by Scott "The Piano Guy" Houston
For as long as people have told stories, there have been tales of a fountain of youth — a spring that supposedly restores the youth and health of anyone who drinks or bathes in its waters. Thousands of adults and seniors have discovered their personal "fountain of youth" by taking a fun dip into learning how to play their favorite tunes on a piano.
The Fascinating World of TeleMed
by LIV FUN staff
Telemedicine companies like Teledoc and Virtual Visits offer assistance and diagnosis via computer or smartphone from virtually anywhere on the planet. Quick virtual access to a health professional has some real advantages.